Bitcoin rockets above 6000 euros for the first time
Comments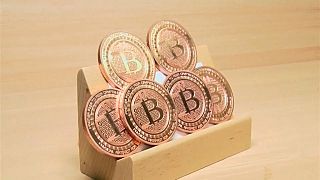 The price of digital currency bitcoin has rocketed above $7,000 (6000 euros) for the first time after a more than tenfold increase in its value over the past year.
But there are some who are expressing caution about the booming cryptocurrency, saying the current interest in it could eventually subside.
"Bitcoin has a problem, it is still difficult to use, difficult to buy things compared to cash and credit cards. It's difficult to sell things with it. So it's not that simple and straight forward yet."says Steve Wozniak, Apple Co-Founder.
Industry website Coinmarketcap says Thursday's price move took bitcoin's aggregate value or 'market cap' – its price multiplied by the number of bitcoins released into circulation – to more than $122 billion (105 billion euros)