Juan Pablo Escobar opens up about the "ugly truth" about his father in exclusive interview
Comments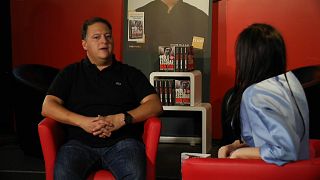 "Pablo Escobar is now more famous than [he] ever was thanks to [a] television series," Escobar's son, who goes by the name Sebastian Marroquin, told Euronews in an exclusive interview.
But Marroquin says the series tells a different story about his father, one that glorifies him to the point of making him a role model.
"He's become a sort of pop star as if the violence, the kidnappings, and the murders didn't exist, I can't believe it."
Marroquin said his father has become so famous thanks to Netflix's Narcos that he even gets messages from people saying that his father has inspired them to get involved in the drug trade.
"Everyday people on social media tell me that they saw Narcos and that they want to be a narco like my father, which is the opposite lecture we learnt from living close to my father's violence."
This is not the first time Marroquin has spoken critically of Narcos. In September 2016, Escobar's son published a Facebook post entitled "Narcos and its 28 lies," in which he lists 28 facts that he believes the TV series either got wrong or invented. In an interview with El Pais that same year, Marroquin said the show was glorifying his father's actions too much and that the reality was "much grimmer."
"My father was much crueler than he appears in the show. He terrorised an entire country," Marroquin told El Pais.
In his interview with Euronews, Escobar's eldest child reiterated how Narcos failed to portray the extent of his father's violence. "My father's violence was far worse than anything you've seen on TV, not even Quentin Tarantino would be able to imagine it," he said.
His father's violence was the reason Marroquin chose to live another kind of lifestyle and not become "Pablo Escobar 2.0."
"I grew up knowing what he was capable of and the consequences of living in such a violent world and I would never advice anyone to follow my father's footsteps."
Instead Marroquin wishes that young people learn the truth about his father through his books, which he says offer a different narrative to the "glorified version" sold by the TV series.
"I would sell millions more [books] if I wrote an ode to my father but I don't, I expose a reality that takes my father off a pedestal and exposes the crimes he committed during his lifetime."