Judge blocks Trump's transgender military ban
Comments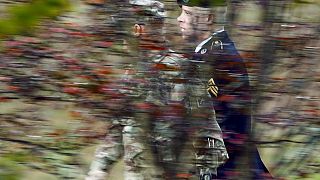 A US Federal judge has temporarily blocked President Donald Trump from banning transgender people from serving in the military.
The judge (Colleen Kollar-Kotelly) overruled the president's directive saying it was "not genuinely based on legitimate concerns regarding military effectiveness or budget constraints, but instead it was driven by a desire to express disapproval of transgender people generally."
Kollar-Kotelly has however thrown out a further challenge to Trump's halt on the use of government funds for sex-reassignment surgery for active personnel unless the process was already underway.
It was in July/August that Trump announced his decision and signed a memorandum to order the military not to accept transgender people, reversing former President Barack Obama's policy and halting years of trying to eliminate barriers to military service based on sexual orientation.
I know we're focused on Mueller today, but this is great news for the many transgender Americans who serve our country. https://t.co/SZGkRW9hba

— Renato Mariotti (@renato_mariotti) October 30, 2017
The Judge's ruling is being seen as a victory to transgender service members who had accused the president of violation their constitutional rights. Trump's action had appealed to his hard-line conservative supporters.