Thousands rally in Madrid for Spanish unity
Comments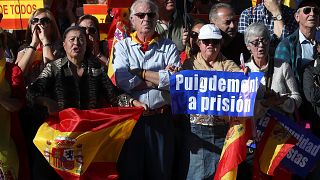 Thousands of people took the streets of Madrid on Saturday to call for unity after the entire Catalan government was sacked.
People of all ages joined the Spanish flag-waving rally along with a large number of tourists.
Unsurprisingly, there was widespread backing of the government's handling of the crisis.
"Last week I said 'two months is nothing, they can not call elections right now because people feel very bad. There is no security. ' But after analysing it I think this is the best measure. Firstly, because you do not see an invasion of Catalonia," one demonstrator told euronews.
But others were more hardline calling for the disputed Catalan leader to be jailed.
Patriotic Spaniards want nothing but jail time for Catalan leadershttps://t.co/4g7ItfxSX1

— The Guardian Nigeria (@GuardianNigeria) October 28, 2017
Among the marchers were political figures such as the government's deputy Communication minister and the Popular Party's Madrid regional president Cristina Cifuentes. She told euronews there was nothing for Madrid or Spain to gain from the exodus of businesses from Catalonia.
"I do not want companies from Catalonia to come to Madrid. What I want for Catalonia is to keep growing, to be strong, to create jobs and for Catalonia to guarantee the best health, the best education. That is to return to normality," said Cifuentes.
Our correspondent in Madrid Carlos Marlasca says the government's decision to take control of Catalonia has been widely welcomed which may be why fewer people took the streets than earlier protests.