Try and you shall succeed: New Zealand rugby players on winning the Princess of Asturias Award for Sport
Comments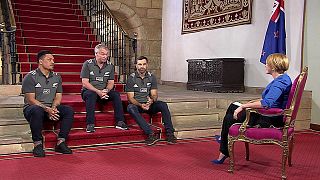 In the world of international rugby, there's one name that will always strike fear into the hearts of any opponent: the All Blacks.
We are very honored, to be in the company that we are in, and to be recognized for sport - not just the current group of players, but for players who have gone before in the team.
The most decorated side on the sport's international stage, long have the New Zealand squad reigned over world of rugby, and even those who aren't particularly taken with oddly-shaped balls can appreciate their prowess.
Well done kevenmealamu</a> and the boys. Haka <a href="https://twitter.com/hashtag/WellRespected?src=hash&ref_src=twsrc%5Etfw">#WellRespected</a> <a href="https://twitter.com/hashtag/WellRepresented?src=hash&ref_src=twsrc%5Etfw">#WellRepresented</a> & <a href="https://twitter.com/hashtag/WellReceived?src=hash&ref_src=twsrc%5Etfw">#WellReceived</a> <a href="https://twitter.com/AllBlacks?ref_src=twsrc%5Etfw">AllBlackspic.twitter.com/g7Picr11Mv

— Apollo Perelini (@Apollo11Rugby) October 21, 2017
Boasting a roster full of magicians and brutes, the team who brought the famous Haka to the world stage are seen as the ones to beat for any side looking to prove themselves worthy.
While they are a force to be reckoned with, however, above all they embody the important values of sportsmanship, unity, and respect.
Euronews met former players Grant Fox, Kevin Mealamu and Conrad Smith in Oviedo, Spain where they received a special award – the Princess of Asturias Awards for Sports 2017.
What does it mean for the All Blacks to receive this prestigious accolade?
Former All Black fly-half Fox: "It's a very prestigious accolade. These awards are significant. And to be fair we didn't know much about them, until we received the award and then we all Googled it, had a look and it's a really prestigious award. We are very honored, to be in the company that we are in, and to be recognized for sport – not just the current group of players, but for players who have gone before in the team. We're representing our country proudly, and it's recognition for them too".
Mealamu, the team's former hooker and one-time captain: "We were talking about it yesterday as well. [Spain] is a place not known for rugby, and for us to be recognized here where probably football is a lot more popular, makes it even more special for us."
New Zealand have just won a 15th Rugby Championship title. Two years ago you became the very first nation to retain the Webb Ellis Cup. What's the secret to your success?
Fox: "There's actually no secret, really. There's just hard work. We're lucky, we have a good talent pool. You know, parents are very involved in the game with their children, it's very accessible in schools. We have great competition structures, administratively speaking. We're in good shape, we have great coaching, and we have an ethos that the team comes first. It's all about the team. No individual is allowed to put their interests ahead of the team."
Former centre Smith: "You know, I think to me, the All Blacks have always represented New Zealand. I don't think you can always say that about sports teams. But the All Blacks, we're multicultural. Looking at every team through the ages, there will be some farmers, there will be some city dwellers. There's a cross section, always within the team, like I said, multicultural. So when people watch the All Blacks they feel like it's our team. So I think the attachment is really special. And that's why the All Blacks has represented people so well and why rugby is so special."
Why are the All Blacks so popular all over the world, even among people who are not from New Zealand or are not true rugby fans? Why they can identify themselves with the All Blacks?
Fox: "You know, we do well, most of the time. We don't beat everyone all of the time; like all teams, we lose occasionally, although not very often at the moment. I think the success is part of that, but there's also the way the team conducts itself. You know we take a great deal of pride in our team-first, ethos, in our respect, not only for out team and fans, but for the media and the opposition. We are very respectful, we're a very humble group. And we don't think we are different from anyone else in our country. We're just lucky that we play rugby a little bit better and have a high profile, but in any other aspect we're just like someone who has a day job."
One of the key words in rugby is 'respect', something that we don't see very often in other sports, such as football. Why do you think this is?
Smith: "In New Zealand when we grow up, I don't remember [respect] being specifically taught in rugby, I just know it's something you grow up with: to have respect whether it's an older person, whether it's the referee, whether it's your father, or your friend's father. So you respect people and I think it carries on through your rugby career. It's one of those things that are so inherent in the sport and you don't really know why. You don't know where it comes from, and you probably don't even realize that it is unique until you see other sports. So it's a difficult one to answer. It's just something we grow up with."
Concussions are becoming more of an issue in rugby. What do you think can be done to solve this problem?
Mealamu: "Well, you know it's something we've been talking about at home and trying to make sure that there's prevention. So obviously making sure there's good coaching around it, so that our young players, players of today understand what good technique looks like. And if the technique is better, we can lower the risk. And then on the other side just making sure that if we see any symptoms or people experiencing them, we make sure that we take care of them first. So the player's welfare is pretty important."
Fox: "Rugby is only for a short time, you have the rest of your life ahead of you. We want players to finish the game as healthy as can be."
Do you consider the All Blacks favorites for the next World Cup, hosted in Japan in two years time? And who could prevent them from a third consecutive title?
Grant Fox, former All Blacks player: "I mean, we will probably go on as favorites, if we carry on with our current form. We've won the last two so it's likely. We go into most World Cups as favorites. But they are difficult to win. If the favorite wins all the time, we would have just about won every one of them. But they don't. It's a tough tournament to win. There are some very good rugby sides around and I think now there more teams capable of winning the World Cup. England, Australia, South Africa, France, Ireland, Wales, Scotland are getting better, Argentina. There's a number of teams who are getting better. It's very competitive now, so who knows, but there are some very good teams who are going to play in 2019 in Japan."
And finally, what does the haka mean for an All Blacks player?"
Keven Mealamu, former All Blacks player: "Well, it probably means something different to everyone. My first recollection is watching the '87 rugby World Cup team doing the haka. Foxy [Grant Fox] was part of that and I was watching some of my favorite players doing the haka. So I think the first bit is being able to watch it as young person for me, and really feeling a good connection, a great connection to it. And then as an All Black, understanding what it means, and having a great understanding. So what do we do, what does it mean to us as a team, what does it mean to us as a country. And having to do it really well. So it's not just suddenly you're bringing the energy or connection to it, you'll actually understand and do it better, because you have a good connection to it."