Raqqa recaptured: ISIL loses its 'capital'
Comments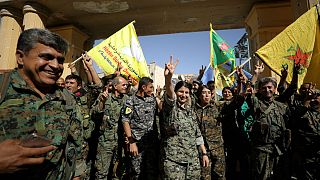 US-backed forces in Syria have raised flags in celebration after claiming to have recaptured the city of Raqqa from self-styled Islamic State, which was once the jihadists' de facto capital.
With around 90 percent of the city now under the control of Syrian Democratic Forces (SDF) – an alliance of Kurdish and Arab fighters – a formal declaration of victory is imminent, but only once all mines and any possible Islamic State or ISIL sleeper cells have been removed.
After taking control of the city's stadium, where some jihadists had made a last stand…a spokeswoman for the Syrian Democratic Forces said that once the area is cleared Raqqa will be rebuilt so that the city will become more beautiful than it was before. "Once again Raqqa," she said, "will become beautiful …the sacrifices made make this possible."
#raqqa the end
reuters-Rodi Said
17-10-2017 pic.twitter.com/ad1fdTj2SM

— rodî saîd (@RodiSad) October 17, 2017
The four-month long fight for Raqqa was helped by coalition airstrikes targeting ISIL positions but which have also been blamed for causing hundreds of civilian deaths.
Against the background of all the destruction and loss of life, the fall of the city, where ISIL staged euphoric parades after a string of rapid victories in 2014, is being seen as a potent symbol of the jihadist movement's collapsing fortunes.
The militants have lost much of their territory in Syria and Iraq this year, including its most prized possession, Mosul. In Syria, it has been forced back into a strip of the Euphrates valley and surrounding desert.
Raqqa was the first big city Islamic State captured, before the victories in Iraq and Syria brought millions of people under the rule of its self-declared caliphate, which passed laws and issued passports and money.