Could allegations of sexual harassment against Trump catch up with him?
Comments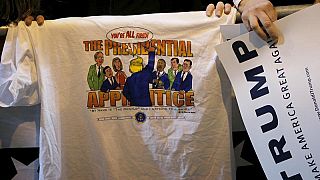 Everyone remembers the, now famous, words uttered by Donald Trump on a recording from 2005. Back then, just your average owner of a real estate empire, he suggested grabbing women "by the pussy". "When you're a star," he was quick to add, "they let you do it".
It may have been filmed 12 years previously but the recording of this statement, rebroadcast while Trump was running as the Republican candidate in the US presidential election, provoked indignation throughout the world.
The US president issued a video apology at the time of the tape's release during the election campaign saying: "Anyone who knows me, knows these words don't reflect who I am. I said it, I was wrong, and I apologize."
The Harvey Weinstein affair made the issue of sexual harassment a hot topic and, according to BuzzFeed, Trump received a subpoena for every document from his campaign relating to "any woman alleging that Donald J. Trump touched her inappropriately".
From reality TV to real sexual harassment in reality?
The court injunction was triggered by a libel suit filed by Summer Zervos, an ex-candidate from reality show "The Apprentice," on which Donald Trump appeared for many years. The complainant accused the billionaire of grabbing her and trying to forcefully kiss her, an event which Zervos alleges took place in 2007 in Los Angeles a hotel room.
Summer Zervos is making the allegations
Trump accuser demands release of documents on all his sexual assault allegations https://t.co/lC4UbAhRjrpic.twitter.com/wQ8nT7CPg1

— HuffPost Politics (@HuffPostPol) October 16, 2017
The US president swept aside the accusation, and that of other women, speaking of "locker room" talk, and calling them "liars." Summer Zervos, in turn, accused Trump of being a "liar" and a "misogynist," suing him for defamation. The complaint reads that Trump "denigrated and defamed Mrs Zervos with false statements."
Zervos's lawyers also served a subpoena on his campaign as part of the injunction, asking that all documents about her be preserved, as well as those relating to other women who accused Trump of groping them, according to BuzzFeed.
The president's response to the motion is due on October 31, according to Zervos's attorney, who hopes the court will deny his motion to dismiss "so that we may move forward with discovery and obtain relevant documents and testimony".