"Cautious Puigdement pulled back from formal declaration"
Comments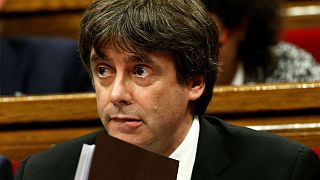 The decision by Catalan leader Carles Puigdemont to pull back from the brink of a formal declaration of independence has surprised many. But how and why has it happened. Political scientist Fernando Vallespin explains:
"He's given mediation a chance. He's specifically mentioned the European Union, which means that what was foreseen by the Law of Transitory Legality approved by the Catalan Parliament last September 6th, does not apply. According to this law, immediately after receiving the results of the referendum, independence should have been formally declared."
I believe that there has been a halt in the unilateral declaration of independence but we don't really know what will be the reaction of the Spanish Government which is interesting as of course what happens next is related to the State's next step.
The far-left pro-independence CUP has remained single minded. It was Puigdemont's dependence on CUP support that has generated so much panic within major economic interests in Catalonia.
I think that Puigdemont has intended to send a message of calm. He has been cautious, influenced by the sight of companies taking steps to leave the region. And what he doesn't want is a direct confrontation with the State.