Catalan leader suspends independence declaration, calls for dialogue
Comments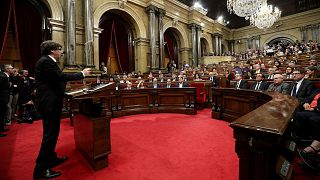 Catalan President Carles Puigdemont has suspended the declaration of independence from Spain to allow for talks with the Spanish government.
In a highly-anticipated speech to the regional parliament, he said Catalonia had to "start a dialogue because otherwise it wouldn't be possible to reach our goal."
"I assume the mandate that Catalonia should become an independent state in the form of a republic… I propose suspending the effects of the declaration of independence to undertake talks to reach an agreed solution."
The speech followed the October 1 referendum, which was deemed illegal by Madrid and suspended by Spain's Constitutional Court.
Around 90 percent of voters cast their ballots in favour of independence, while turnout for the referendum was put at 43 percent.
The Spanish government rejected Puigdemont's statement, which it described as a "tacit" declaration of independence.
It earlier warned the separatist leader "not to make any unilateral independence declaration, which would lead to illegality."
Prime Minister Mariano Rajoy is due to appear in Spain's parliament on Wednesday (October 11). He has previously rejected any dialogue with Catalan separatists unless they abandon plans for secession.