Catalan leader asks for mandate to declare independence but suspends it for dialogue, says worth exploring international mediation
Comments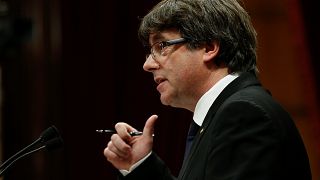 Catalan leader Carles Puigdemont has addressed the region's parliament today, giving his response to the recent referendum in which around 90 percent of voters backed independence.
After a delay of at least an hour, Puigdemont said the result of the October 1st referendum was a 'Yes' and asked for a mandate to declare independence, but suspended it to open up dialogue. He said he wanted to reduce tensions with the Spanish government over the crisis.
The key speech follows the October 1 vote, which was deemed illegal by Madrid and suspended by Spain's Constitutional Court.
Catalans listening in to KRLS</a> speech earlier <a href="https://t.co/zevLOgvwOF">pic.twitter.com/zevLOgvwOF</a></p>— James Franey (jamesfraney) October 10, 2017
embed