France leads EU pressure on Catalonia
Comments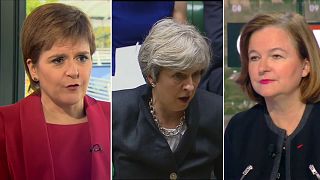 Capitals across the European Union are looking on with concern at events in Catalonia. In Paris the French government has said it wont recognise an independent Catalonia France's European Affairs Minister Nathalie Loiseau Minister has said it would mean expulsion from the bloc.
"If independence was to be declared the first consequence would be that Catalonia would have to leave the European Union," Nathalie Loiseau said on French television.
In London British Prime Minister Theresa May who has been facing mounting calls to speak out against the scenes of police brutality in Catalonia, stuck steadfastly to the legal position.
"I want to see and I am sure all honorable members want to see this situation being resolved peacefully, but we are very clear as a government that the Spanish government has the right to uphold the Spanish constitution, and also that all parties should be operating under the rule of law."
Meanwhile Scotland's First Minister Nicola Sturgeon offered a more conciliatory voice raising the possibility of the EU playing a mediation role between Spain and Catalonia:
"It's not for Scotland to decide whether Catalonia becomes independent or not – I think it must be for the people of Catalonia to decide that. Spain says last Sunday's referendum was illegal. I respect their position, but if that's the case surely the discussion now must be how do the people of Catalonia legally and legitimately express a view about the future."