Spain's Caixabank and Gas Natural quit Catalonia
Comments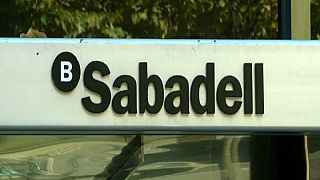 Spain's third-biggest lender Caixabank has decided to move its registered office to Valencia.
Caixabank said in a statement it had taken the decision "in light of the current political and social situation in Catalonia."
Also on Friday (October 6) Catalonia-based utility Gas Natural said it has decided to transfer its headquarters to Madrid.
Gas Natural's said the move will be for as long as the legal uncertainty in the region continued.
The announcements comes a day after Spanish lender Banco Sabadell said it planned to move from Catalonia to Alicante.
Spain's government on Friday passed a law making it easier for companies to move around the country.
CaixaBank to move legal headquarters out of Catalonia after referendum https://t.co/s9T5VnWBva

— Financial Times (@FinancialTimes) October 6, 2017
Catalan banks weigh headquarter shifts after secession #CaixaBank#BancoSabadellhttps://t.co/5YvcxsrV1Epic.twitter.com/w0WVxOdhUh

— DW – Business (@dw_business) October 5, 2017