Little-known campaign group ICAN wins Nobel Peace Prize
Comments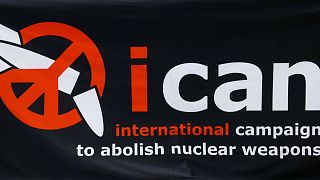 A little-known international campaign group seeking a ban on nuclear weapons has been awarded the Nobel Peace Prize.
Based in Geneva, the group describes itself as a coalition of grassroots non-government groups in more than 100 nations.
Berit Reiss-Andersen, the leader of the Norwegian Nobel Committee, said the group was awarded the prize for its work in drawing attention to the catastrophic humanitarian consequences of any use of nuclear weapons and for its ground breaking efforts to achieve a Treaty-based prohibition on such weapons. "We live in a world where the risk of nuclear weapons being used is greater than it has been for a long time," said Reiss-Andersen.
The award comes amid heightened tensions over both North Korea's aggressive development of nuclear weapons and US President Donald Trump's persistent criticism of the deal to curb Iran's nuclear program.
ICAN's Beatrice Fihn, said the award should boost the case for nuclear disarmament.
"I think it sends a message to all nuclear-armed states and all states that continue to rely on nuclear weapons for security that it is unacceptable behaviour. Look at the threats of nuclear war today, does that make you feel safe?" she asked.
In July, 122 nations adopted a U.N. Treaty on the Prohibition of Nuclear Weapons, although the agreement does not include nuclear-armed states such as the United States, Russia, China, Britain and France.