Three South American nations in joint bid for World Cup 2030
Comments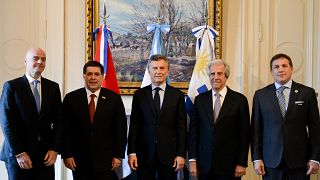 Argentina, Uruguay and Paraguay have formally launched South America's three-nation bid to host the 2030 World Cup and said Argentina would likely host the majority of the tournament's stadiums.
The presidents of the three nations, who announced in August that they were teaming up to bid for the tournament, kicked off the campaign at the Casa Rosada, Argentina's government palace.
They said that the bid would likely involve two or three stadiums in Paraguay and Uruguay and six to eight stadiums in Argentina.
They also played up the appeal of the World Cup returning to Uruguay where the first tournament was held in 1930.
Argentinian president Mauricio Macri said it was time the tournament was held in the region.
"We are here to tell you that we have ratified this commitment, we've presented it to the president of FIFA and we are counting on the support of CONMEBOL. I think the region deserves the a World Cup because it's been a long time since we've hosted one," he explained.
Argentina and Uruguay, who have both won the World Cup twice, decided to launch a joint bid earlier this year and later added Paraguay, who have never won the tournament.