Nobel Peace Prize: a history of controversial laureates
Comments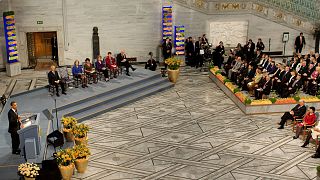 The Swedish Academy today (October 6) named the International Campaign to Abolish Nuclear Weapons as the winner of the 2017 Nobel Peace Prize.
As she announced the result, Nobel Committee chair Berit Reiss-Andersen insisted that it was "an encouragement to all players in the field."
"It's not a controversial prize because it's a shared goal," she said.
But the award, established in 1985, has frequently courted controversy since its founding by Alfred Nobel, the famous dynamite inventor who made his fortune selling firearms.
Both Benito Mussolini and Adolf Hitler were nominated in 1939, while Joseph Stalin was put forward for the prize in 1945 and 1948. And even some of those who have gone on to win the award have prompted criticism.
Here's a look at some of the Nobel Peace Prize's most controversial winners.
The recent controversy over Aung San Suu Kyi
Aung San Suu Kyi, the de facto leader of Myanmar, won the prize during her imprisonment in 1991 for "her peaceful fight for democracy and human rights."
However, her lack of action over the persecution of the Rohingya ethnic minority has prompted calls for the prize to be revoked.
Among her critics is Nobel laureate Desmond Tutu, who highlighted her lack of action to stop the violence and human rights violations against Rohingya Muslims being forced to flee to neighbouring Bangladesh.
In a letter to Suu Kyi, his "dear beloved sister," Tutu wrote: "If the political price of your ascension to the highest office in Myanmar is your silence, the price is surely too steep."
Other controversial cases
A number of winners have also declared war or started conflicts.
Israeli leader Menachem Begin, the 1978 winner for the Camp David accord, declared Lebanon's invasion in 1982. Yassir Arafat, the Palestinian leader, shared the Nobel prize in 1994 with Yitzhak Rabin and Shimon Peres for the Oslo Accords, but later led the second most violent intifada against the Israeli occupation.
The Soviet leader Mihail Gorbachev, who won the Nobel prize in 1990 for his pacifying role at the end of the Cold War, sent tanks in 1991 to stop the independence of the Baltic countries.
Henry Kissinger shared it in 1973 with the Vietnamese revolutionary Le Duc Tho for the attempt to end the war on the Asian peninsula. Le Duc, the only person to have refused the prize, accused Washington of breaking the ceasefire. The war ended in 1975 with the fall of Saigon.
Former US President Barack Obama said he was surprised to win the prize in 2009, just a few months after starting his presidency. When he arrived in Oslo to receive the award at the end of the year, Obama had already tripled the presence of the American military personnel in Afghanistan.
The decision to award the prize to the European Union in 2012 was also controversial. At that time, Brussels was imposing harsh financial conditions on Greece, which many economists blamed for destroying lives.
Nobel prize historian, Asle Sveen, told Reuters: "It is always a risk when they promote somebody, and they cannot predict what is going to happen in the future. That is what makes the Nobel Peace Prize different from all the other peace prizes, otherwise, you would give the prize to very old people just before they die."
Euronews, October 2017. Source: nobelprize.org