Pro and anti referendum rallies take place in Barcelona
Comments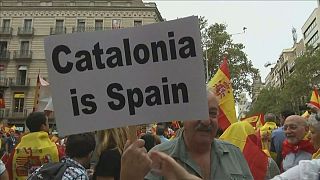 While the Catalan capital Barcelona has been the site of several pro-independence rallies in the build up to the referendum, hundreds took to the streets in favour of Spanish unity waving Spanish flags and signs reading 'Catalan is Spain'.
Tensions began to rise as police forces were seen to be leaving the port of Barcelona. They have been stationed in the area over the past week.
Spanish police sealed 1300 schools earmarked as polling stations and occupied the Catalan government's communications hub in an effort to stop the vote.
With weeks of antagonism and tension coming to a head, neither side was showing signs of backing down from a confrontation that has pitched Spain into a political and constitutional crisis.
Parents and children have been camping out at a school in the Gracia neighbourhood of Barcelona to protect it from possible closure by police. The parents insist they are not moving.
They have also been organising activities with students to prevent police from closing them before the vote.
People who form the famous Catalan human towers were supporting independence. The Casteller organisation had their accounts blocked in the weeks leading up to the independence referendum.
Catalonia will vote amid political and social tension between the pro-independence campaigners and those who reject the separation of the State. The international community is watching Catalonia carefully and is worried about the conflict.