Trump appeals, Lopez donates as celebrities rally to aid Puerto Rico
Comments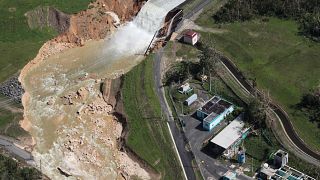 US President Donald Trump has perhaps belatedly tweeted an appeal on behalf of the hurricane-stricken island of Puerto Rico, adding his voice to the growing chorus calling for help as the scale of the disaster reveals itself.
Many of its three and a half million people have lost everything, including power, fresh water, and functioning infrastructure and services. Fuel and food are in short supply, and the costs of rebuilding are astronomical.
Trump was quick to donate one million dollars of his own money to charities in the Houston area after Hurricane Harvey, but he has not yet made a similar gesture to victims of Irma and Maria.
One person pledging money for Puerto Rico is singer Jennifer Lopez, whose parents are Puerto Rican.
"My cousin and I and our family still haven't been able to hear from all of our family over there and we are concerned for them and everyone on the island. And I will be donating $1 million from the proceeds of my Las Vegas show," she announced.
A quick look on social media shows many other celebrities are expressing alarm about Puerto Rico's plight.
Seen from space the effects of Hurricane Maria are truly dramatic, with most of the island blacked out because of the destruction of the energy grid.
Satellite night images of #PuertoRico. #HurricaneMaria knocked out power grid, millions without electricity. More <a href="https://t.co/UxxCHH5OVC">https://t.co/UxxCHH5OVC</a> <a href="https://t.co/yUDLk8V0Jf">pic.twitter.com/yUDLk8V0Jf</a></p>— NOAA Satellites (NOAASatellites) 25 septembre 2017
On the ground damaged hospitals have set up temporary wards, where patients lie in bed to recover or await treatment outdoors, and staff hold their meetings.