France: thousands rally against labour reforms
Comments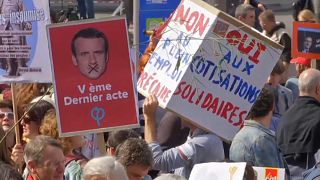 In France, tens of thousands have rallied against labour reforms President Emmanuel Macron says will make hiring and firing easier. Jean-Luc Melenchon, the leader of the far-left 'France Unbowed', led the demonstration in Paris. He called on the trade unions not to give up the fight after earlier protests appeared to be fizzling out.
"You'll see that will be the start of something. It will ignite a desire to fight, a desire to come together. It'll also be a march for dignity. It's the insulted who are here. The so-called slackers, or drama queens. This is our reply," said Melenchon.
His response appears to be a reaction to a comment made by Macron in May, when he joked about the French neuroses.
The controversial reforms, which have now been signed into law, will give companies more power over working conditions.
However, opponents claim they are an attack on workers' rights.
Melenchon is, polls suggest, Macron's strongest opponent.