Youth uninspired by Social Democrats and 'the Schulz Effect'
Comments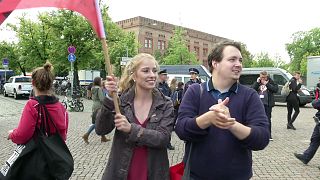 These young people are campaigning outside a shopping mall in the Neukölln district of Berlin.
It is a working-class and left-wing part of the German capital.
But they are handing out information packs for the conservative Christian Democrats.
In Germany, there is no Bernie Sanders, no Jean-Luc Melonchon and no Jeremy Corbyn.
Instead, opinion polls show that young people here will vote mostly like their parents.
And – not even very different to their grandparents.
It might just simply be down to the strong German economy.
"In Germany, we have much better chances for young people. Education and training are good. We simply have good prospects here in Germany compared to other countries, says Georg Dobry, a young CDU volunteer in Neukölln"
But the low youth unemployment might not be the full story.
These CDU volunteers had just started school when Angela Merkel won her first election in 2005.
Since then she has dealt with a seemingly endless list of problems: the financial crash, the euro crisis, the war in Ukraine, mass migration, Brexit and now with Donald Trump as a President of the United States.
Merkel has been a calm voice for these young voters throughout most of their lives.
Onur Bayar, another young CDU volunteer in Neukölln, says:
"Over the last 12 years, the Chancellor has acted calmly and correctly in each crisis: like the euro crisis or the refugee crisis.
"And I think this feeling of stability and security is very important to a lot of young people. She looks to the future and acts with a political and sustainable goal in mind."
It is sometimes easy to forget that Angela Merkel is leading a conservative party.
The CDU and its Bavarian sister party, the CSU, were opposed to same-sex marriage until just a few months ago and the parties often campaign on conservative ideals such as law and order and family values.
But at the same time, Merkel has adopted more left-wing positions such as ending nuclear power and, of course, the support for refugees.
Some opinion poll experts think that this has made the party acceptable to young people again.
According to Rainer Faus, director of the Pollytix research institute: "Around 20 years ago, when (Helmut) Kohl was at the end of his Chancellorship, Kohl was not very liked by young people.
"Let's just say it like that. That is not the case now. With Merkel, it is acceptable for young people to vote conservative, because she herself is very moderate. The party not so much, but Merkel as the public face of the party, is a very moderate chancellor."
But where does this leave the opposition?
The Social democratic Party SPD is also doing quite well among young voters.
A lot of young people show up at Martin Schulz rallies, and the party is running a youth-oriented social media campaign.
But it might not be enough:
"The Social Democratic leader Martin Schulz has just started speaking behind me," says Jona Källgren.
"He was supposed to bring in new young voters to the party, to be a Macron of Germany. But according to opinion polls, Angela Merkel's Christian Democrats are still leading among young people."
So what went wrong for Schulz?
The young SPD activists at the rally here in Potsdam think Schulz, who took over the party in March this year, has not had much of a chance to make himself known.
"Most of the young people that are interested in politics tend to focus on things at the national level. Martin Schulz came from the European Union, he was the president of the European Parliament.
"I just think people don't know much about him. And now he has this short time to get known by people and he hasn't really been able to do that with young people."
Martin Schulz entered the German election ring with high expectation when he was elected head of the social democrats. We will find out on September 24 if the initial enthusiam of what became known as "The Schulz Effect" becomes reality when he goes against the might of Merkel and the CDU at the polls.