German Election 360°: Lake Constance
Comments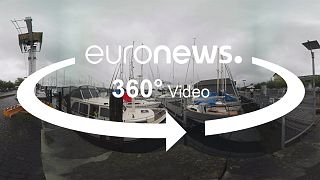 In this episode of Euronews' special 360° series dedicated to the German elections, we meets former fisherwoman Elke Dilger on the shores of Lake Constance.
Elke Dilger: "My name is Elke Dilger and I've lived in Meersburg, by the beautiful Lake Constance, for the past 48 years. I am fisherwoman by trade. That was my job for 26 years – it included catching fish, processing fish and selling fish. For the past four years, I've been renting out holiday apartments."
Euronews: "Right now we are on the shores of Lake Constance. Why is this lake so special for the region?"
Elke Dilger: "We live in paradise here. There are many paradises on Earth but I always say that Lake Constance really is a special one. It's a very beautiful region, with a beautiful landscape, the lake provides us with fresh drinking water and it's also a source of food for the people who live here. And it's a great place to experience for tourists, it's a beautiful region and, of course, they get to taste the fish from the lake."
But there is trouble in paradise. Elke Dilger is not the only one who lost her job. Back in the 1990's, some 200 fishermen from Germany, Austria and Switzerland were able to make a living here. Today, that figure has dropped by half, and the future looks grim.
After the lake was polluted in the 1970's, measures were taken to bring down phosphate levels. Though it is cleaner now, the downside is that there isn't enough food for the fish and some species are in decline. Elke Dilger hopes a solution will be found.
Elke Dilger: "There needs to be an investigation to find out how we can ensure that the lake stays clean and provides drinking water, but also that it provides enough food for the fish. And in the near future we should maybe think about ways to help the fishermen. I mean farmers get financial help, for example, when they loose crops because of the cold or the frost."
Elke Dilger defends the interests of the Lake Constance fishermen. She's fighting against the introduction of intensive fish-farming as she fears that would pollute the lake and make the wild fish ill.
Euronews: "How would you describe your identity? Living here in a border triangle, do you see yourself as being from Meersburg or are you from Baden-Württemberg, or do you see yourself rather as German and maybe even as an EU citizen?"
Elke Dilger: "I am definitely from Meersburg, I completely belong to Lake Constance, and I also feel connected to the Baden-Württemberg region. We live in a good and stable country, I am happy that I was born here. I also feel German and the EU has many advantages, like international cooperation for example. So there are many advantages but there are also difficulties in many areas."
Elke Dilger: "Here in the region agriculture is very important. We rely heavily on tourism, but we also rely on wine-growing and fruit-growing. What is certain is that people working in the farming sector deserve more help and respect. Small-scale farming should also be able to survive. Their life shouldn't always be made more difficult by stricter rules and laws. We shouldn't just have big, industrial farms producing and doing everything."
Euronews: "Let's imagine, just for a second, a country where Elke Dilger were chancellor. What would your first action be?"
Elke Dilger: "If I were chancellor, I would make sure that the people who work in the social sector, who help the elderly and the sick, who take care of others, those who work in the cleaning sector and who make sure everything is clean, I would give these people a higher salary, so they get the respect and status they deserve."
Euronews will be publishing two episodes a week of its special 360° coverage ahead of the German federal elections on September 24.