Juncker on Catalan referendum, Brexit and tech giants
Comments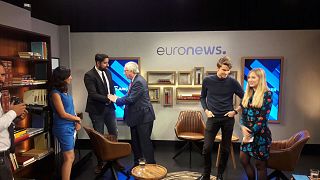 Watch the top moments here:

European Commission Jean-Claude Juncker has said he would "respect" the results of a vote for Catalan independence.
The region is planning a vote on October 1, but Madrid has declared this illegal and vowed to prevent it.
Juncker specified that an independent Catalonia would not be able to join the European Union unless it followed the same process as other states, which would give Spain a veto.
Asked if he would recognise a yes in the referendum, Juncker responded:
"We have always said on the subject that we would follow and respect the rulings of the Spanish constitutional court and parliament but it is obvious that if a "yes" for Catalan independence comes to pass – which we'll have to wait and see – we would respect that choice. But Catalonia could not become an EU member the day after the vote."
Brexit
He also said he expected that a deal would be reached with the UK on Brexit, noting: "My working hypothesis is that there will be a deal… I don't believe in what you might call a 'hard Brexit'".
He played down an apparent threat in his State of the Union speech yesterday, insisting that his warning 'You will regret it' was directed at what he described as 'extreme-right' UK MEPs in the European Parliament, not the British people.
Tech giants
Asked about how he perceived tech companies like Google and Amazon, Juncker said he saw them as a danger.
"I'm surprised that the people who are asking these questions are very keen customers of Google, Amazon, etc – they are criticising these companies but at the same time they are customers of these companies so they are helping them make money," he noted.
He pointed out that the volumes of data held by the US tech giants gave them a "potential for manipulation".
Euro
Juncker also clarified remarks from yesterday's speech about the euro, insisting that he was not proposing to oblige any countries to take up the single currency.
Ritual slaughter and animal welfare
The European Commission president also spoke at length about issues impacting Muslims living in Europe. He said he was not a fan of the practice of ritual slaughter of animals who have not been stunned but also that it was important to respect religious traditions.
He was speaking in live interviews with three YouTube creators hosted by Euronews.
The three creators, who have more than 1.3 million followers combined, are Diana zur Löwen, Abdel en Vrai and Kovy from Germany, Belgium and the Czech Republic respectively.