#AskJuncker: Tell us what you think of the European Union ahead of Juncker's live YouTube interview on Thursday.
What does the European Union mean to you? Do you see the union as a useful asset to your country or a bureaucratic tool that has a negative impact?
Tell us what you think below and find out if factors like age and location affect people's views on the EU.
On Thursday, September 14, the day after his annual State of the European Union address, European Commission President Jean-Claude Juncker will meet three YouTube creators and answer their questions.
During the live Q&A session YouTubers Abdel en vrai, Kovy and Diana zur Löwen will ask the ex-Luxembourg prime minister questions on subjects such as Brexit negotiations, the future of the EU and refugee relocation schemes amongst others.
You can also tweet or post your questions to Facebook using the hashtag #AskJuncker.
The live YouTube event will take place on Thursday 14 September 2017 at 14:00 CET and can be viewed on Euronews' website.
If you'd like to discuss the issues covered in the session, Debating Europe offers a platform for you to talk with European politicians and experts.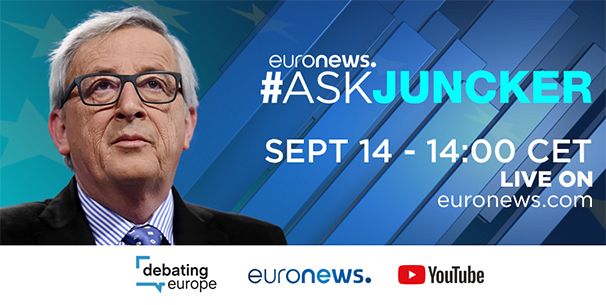 Meet the YouTube creators
Abdel en vrai

What question do you think abdelenvrai</a> should ask President Juncker? <a href="https://twitter.com/hashtag/AskJuncker?src=hash">#AskJuncker</a> <a href="https://t.co/egy5qiDXSX">pic.twitter.com/egy5qiDXSX</a></p>— euronews (euronews) September 10, 2017
Kovy

YouTuber kovy_gameballcz</a> asks President Juncker the tough questions young people want answered. What would you ask? <a href="https://twitter.com/hashtag/AskJuncker?src=hash">#AskJuncker</a> <a href="https://t.co/RF4EcfyxsS">pic.twitter.com/RF4EcfyxsS</a></p>— euronews (euronews) September 10, 2017
Diana zur Löwen

If you were YouTuber dfashion</a> what question would you ask <a href="https://twitter.com/JunckerEU">JunckerEU? #AskJunckerpic.twitter.com/2IDKz0vQLz

— euronews (@euronews) September 9, 2017