Suspected migrant traffickers detained in Sicily
Comments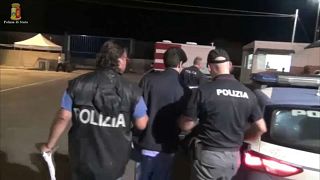 Italian police have detained two suspected people smugglers after a boat carrying 230 migrants docked in the Sicilian port of Pozzallo.
The migrants were picked up by a ship belonging to Spanish NGO Proactiva Open Arms.
After taking statements from the migrants and watching a video of their rescue, police identified and detained a 20-year-old-man from Senegal and a 17-year-old Gambian.
Due east in the Aegean Sea, the Turkish coastguard intercepted in two separate operations some 96 migrants attempting to reach Greece from the west coast of Turkey.
Turkey has agreed to stem the record flow of migrants to Europe in exchange for billions of euros in aid from the European Union and the lifting of short-term visa requirements for Turkish citizens wishing to enter the bloc.
Turkey is home to the world's largest refugee population, housing some 2.7 million Syrians and 300,000 Iraqis.