Syrian forces advance on ISIL-besieged Deir al Zor
Comments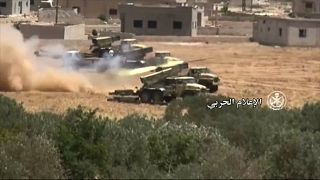 Syria's army and its allies are said to be nearing their enclave of Deir al-Zor in eastern Syria with the aim of relieving it after three years of so-called Islamic State siege.
Intense fighting is taking place, but the region's governor said Syrian troops were rapidly advancing.
Meanwhile the UN in Geneva has expressed concerns about trapped civilians.
"There needs to be a way of getting them out, those who want to flee need to be able to do so in safety. Secondly, what we are saying is that everything then needs to be done accordance with international law to protect the civilians who remain. Even if fighting is going on, civilians have a protective status and fighting forces have obligations under international law to not hit civilians and protect them," said Mattias Behnke from the UN's Human Rights team.
In the centre of Syria, on the outskirts of al-Salamiya,Islamic State is also under pressure from Russian air strikes.
Evicting jihadists from the area should improve security on the main road running between the cities of Homs and Aleppo.
The syrian army reachs Deir al- zor

— فداء العاملي (@GANDY1997) September 3, 2017
Elsewhere an ISIL evacuation convoy trying to reach self-styles Islamic State territory in east Syria has split in two, with some buses remaining in the open desert after others turned back into government-held areas.
The Syrian government and Lebanon's Hezbollah group offered the convoy of about 300 lightly armed fighters and about 300 family members safe passage a week ago in return for Islamic State surrendering an enclave on the Syria-Lebanon border.
However, the US-led coalition has blocked the convoy from entering Islamic State territory in east Syria, near the border with Iraq, by cratering roads and destroying bridges, saying it opposes the evacuation deal as being "not a lasting solution".
Hezbollah said all but six of the buses had safely crossed out of Syrian government territory and were no longer the responsibility of it or the Syrian government.
It warned the United States that the buses in the desert included elderly people, pregnant women and casualties, and accused it of stopping humanitarian aid reaching the convoy.