Obama's letter to Trump revealed
Comments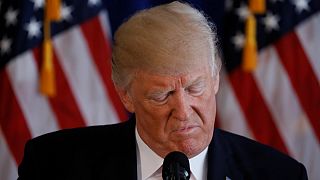 As he quit the Oval Office, President Barack Obama left a letter to President Donald Trump with some advice. At the time, much curiosity was stirred regarding the contents of this letter, especially after President Trump told ABCNEWS that the letter was beautiful, well-written and very thoughtful.
Today, the speculation is over as CNN released a full copy of the letter. Obama kept the letter secret, but Trump has been reportedly showing it off proudly to visitors, which is how CNN gained access to it.
Obama's opening lines congratulate Trump on his "remarkable run", reinforcing that regardless of political opinion, millions hope his presidency will expand both prosperity and security.
The former president then goes on to share four pieces of reflection based on his past experience:
1) Do not take the job lightly, people are counting on you
Obama makes clear that the presidency is a "blessing" and that it's on Trump's shoulders to "build more ladders of success for every child and family that's willing to work hard".
2) Leading the US means taking responsibility for international stability
"American leadership in this world really is indispensable", Obama writes. He goes on to say that Trump should take care to ensure order overseas so that US wealth and safety are maintained.
3) Make sure to protect democracy
Obama reinforces that a president's leadership is temporary and that democracy has been bravely fought for throughout American history. In his words: "It's up to us to leave those instruments of our democracy at least as strong as we found them."
4) Don't forget your family
Obama's last advice for Trump is to not get overrun by work and cherish friends and family, after all "they'll get you through the inevitable rough patches."
Before he ends, the former President wishes Trump and Melania well as they take on " this great adventure" offering to help where he can.
Obama signs off, "Good luck and Godspeed, BO".
Leaving a hand-written letter to a successor is a tradition in the White House. Obama has taken the task of addressing Trump seriously: his letter contains 275 words and is twice as long as the letter he received from George W. Bush.
This writing is also the last formal exchange between Trump and Obama. The animosity may well have increased since then, notably after Trump's disregard for Obamacare and following his claims that Obama had wiretapped the White House earlier this year.
How low has President Obama gone to tapp my phones during the very sacred election process. This is Nixon/Watergate. Bad (or sick) guy!

— Donald J. Trump (@realDonaldTrump) March 4, 2017