German Election 360°: enough is enough after 12 years of Merkel
Comments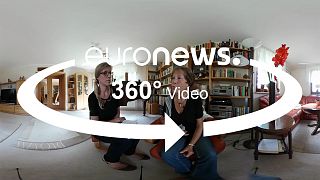 Germany goes to the polls for the federal elections on September 24 where the country elects deputies in the lower house.
In the second of nine episodes, Euronews looks at concerns facing Germans and Germany ahead of the elections. Each week two to three episodes will be published ahead of the polls.
Christine Richter "My name is Christine Richter. I am, or I was a music and German teacher for 37 years, from 1983 at the music high school in Demmin. I retired in 2006 and but I still have a very busy life. I spend my most of my time making ceramics, which has always been a dream of mine."
*euronews**Merkel has been German Chancellor for the past 12 years, what is your verdict?*
CR "It has been good but now it is enough. After 12 years a change is more than necessary, but I don't know if many people understand that. So many structures have grown and solidified over the years. There is no space anymore for alternatives."
*euronews**In your opinion, who is calling the shots in Germany?*
CR "The economy and money, but not the politicians, oh no! The opinions of the politicians are completely insignificant. For me it`s just bla bla, just chatter. The economy does what it wants. The people are not important, what counts is money. We are always talking about democracy, but it is the power of money and not the power of the people."
*euronews**Christine is worried about the future. Demmin, was once called "the unemployment capital". In 2004, the jobless rate was over 30 %. It's now halved but that's partly because many of the unemployed retired. But many of the young people have left.*
CR: "I think it is good that the reunification happened. But the way it happened wasn t good at all. The East of Germany was savaged. So you can easily understand that it took the people many years before they could lead a normal life again.
"People who thrived in their jobs, in their companies, who loved their work, were suddenly let go. Their firms completely shut down and then left to deteriorate. I don t even want to think about it. And many people had suddenly to lead a completely different life, this ruined the health of many people. This shouldn t be forgotten."
*euronews**What are the biggest Problems here in Mecklenburg-Vorpommern?*
CR "Unemployment, Infrastructure, the difference between cities and countryside, that is the short answer.
A politician once said to me, what is wanted by politics, will also be paid for. I pondered this sentence a long time, because I was thinking, if that is the case, everything should be completely different. And then I realized, no, because this is not wanted by the politicians."
*euronews*_ *You ve just mentioned money. What should we spend more money on i Germany or in Mecklenburg Vorpommern ?*_
CR "For me as a teacher, first of all Education. There should be more teachers and more Kindergarten teachers, because education doesn t only start at the age of six or seven. It begins from Kindergarten. There are so many areas for which you have to say : 'Germany, spend the money on something that is really needed!"