Trump takes on Hurricane Harvey
Comments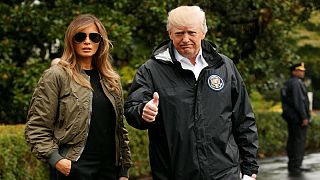 US President Donald Trump and his wife Melania arrived in Texas on Tuesday to survey the response to the catastrophic flooding caused by Hurricane Harvey.
Unleashing a different storm, this time on social media, the First Lady wore high heels as she boarded Air Force One.
POTUS and FLOTUS en route to Texas. A word to the wise Melania – you're gonna need new shoes #HoustonFloodspic.twitter.com/s3IehKZ6as

— Emily Purser (@EmilyPurser) August 29, 2017
But by the time the couple landed in Corpus Christi – near where Harvey first made landfall last week as the most powerful hurricane to strike Texas in more than 50 years – she had slipped on a more sensible pair of sneakers.
Trump said he wants the relief effort to be seen as an example of how to respond to a storm.
"We want to do it better than ever before, we want to be looked at in 5 years, in 10 years from now, as 'this is the way to do it.' This was of epic proportion. Nobody has ever seen anything like this," he said, meeting with local officials.
He was later due to head to Austin, the state capital.
Trump says he hopes his administration's response to Harvey will be regarded as a model https://t.co/CNVwBoJyDwpic.twitter.com/GO0rWuSgpp

— Bloomberg (@business) August 29, 2017
WATCH: "Texas can handle anything," President Trump says before holding up a Texas flag https://t.co/OXzrkR8rVE

—

NBC

News (@NBCNews) August 29, 2017
Overflowing reservoirs
The slow-moving storm has brought catastrophic flooding to Texas, killed at least nine people so far and paralysed Houston, the country's fourth biggest city.
Residents were urged to evacuate as reservoirs in and around the city started to overflow on Tuesday.
Brazoria County, south of Houston, also called for immediate evacuations around a levee that was breached by the floodwaters.
JUST IN: Brazoria County says the levee at Columbia Lakes has breached due to Harvey flooding. "Get out now!!" pic.twitter.com/Vzgayx0NWn

—

NBC

News (@NBCNews) August 29, 2017
#Harvey's relentless rain sends water spilling over local levee and two dams protecting downtown Houston https://t.co/PiVmh3KO4Apic.twitter.com/Z78eFG7KYi

— New York Daily News (@NYDailyNews) August 29, 2017
So far, more than 3,500 people had been rescued from high waters in the Houston area, and some 30,000 were expected to seek emergency shelter.
The storm broke Texas rainfall records at one measuring site south of Houston, which recorded 1.25 m of precipitation since the storm's start. The rainfall is more than the region typically sees in a year.
The storm has drawn comparisons with Hurricane Katrina, which devastated New Orleans exactly 12 yeas ago, killing 1,800 people. Then President George W. Bush was widely criticized for his handling of the response to that disaster, and Trump, whose approval rating has hit a new all-time low, is now clearly hoping to avoid a similar reaction.
Could Harvey be Trump's Katrina? https://t.co/GQn7NKPLXFpic.twitter.com/m5efvETyTz

— CS Monitor (@csmonitor) August 29, 2017