Doomed dogs start new life in USA
Comments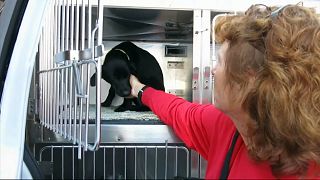 Some seemed excited. Others slept off the flight.
But all the 205 abandoned canines airlifted to the mainland United States can now look ahead to a new life, having been saved from a grim fate in Puerto Rico.
Animal welfare campaigners organised the transfer of the discarded pooches from the cash-strapped US territory where shelters are struggling to cope with canine overpopulation and many dogs are put down.
"The shelters in Puerto Rico have no choice," the Associated Press news agency was told by Kimberly Alboum, director of policy engagement and shelter outreach for the Humane Society of the United States.
"They run out of room and, unfortunately, they have to euthanise for space. It's heartbreaking for the staff and it's devastating because these animals are all highly adoptable."
Abandoned dogs saved from near certain death in Puerto Rico with airlift to mainland U.S. https://t.co/ibflMNJ5IK

— The Associated Press (@AP) 24 août 2017
Vets checked the dogs who were taken to the San Juan airport and flown in two aircraft provided by a group called Wings of Rescue.
A plane ride later in Fort Lauderdale, Florida and a world of difference awaited the new arrivals, representing a variety of breeds and ages from puppies to elderly dogs. One plane continued on to North Carolina.
The dogs have been taken to various locations in the US where loving families are just waiting to give them good homes.
Breaking News! 200 dogs rescued from #PuertoRico, 24 sent to HSBC pic.twitter.com/VaaABbL6dw

— H.S. of Broward Co. (@HumaneBroward) 23 août 2017