Vanilla prices soar in Madagascar
Comments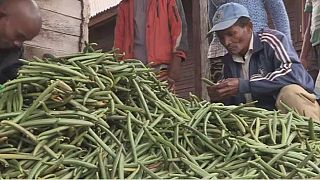 Madagascar has witnessed an increase in vanilla beans following a swell in the demand of the product used to flavour foods or impart a fragrance.
Dealers now hoard the pods to sell later at a higher price. The soaring prices of the commodity has fostered a highly lucrative enviroment that has led to the rise of cartels and unscrupulous traders.
"The vendors have no gain. I am looking forward to stop this work because it is very hard. Everybody is dishonest. Whether they are 20, 40 or 60 years, all of them are lying," vanilla vendor, Patrick Razafiarivo said.
Madagascar produces 80% of the world's vanilla; but demand has outstripped supply. Speculation has pushed prices to triple in the last three years, reaching approximately 600 dollars a kilo this year.
The situation has led to an increase in crime considered as another negative consequence of dealing with the commodity.
"Certainly there are those who are in this industry solely for opportunism. It is becoming more and more difficult to convince others because some people have been discouraged after buying moldy, rotten vanilla," a vanilla exporter, Lucia Salvetat said.
Madagascar earned about $650 million from vanilla last year equivalent to 5% of the country's GDP. But proceeds from the sale of the commodity do not seem to have a positive impact on the economy. Out of eighty-six municipalities in the region, only six have access to electricity.