Two Barcelona attack suspects charged with murder
Comments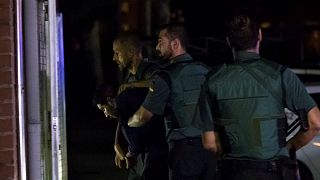 A Spanish judge has charged two men in connection with the attack in central Barcelona last week, a third has been held for further questioning while a fourth has been released on bail.
It followed a day-long hearing in Madrid during which only one of the four suspects admitted a role in the plot. The other three all denied involvement.
Mohammed Houli Chemlal and Driss Oukabir, have been officially charged with membership of a terrorist organisation and with murder.
The investigation is continuing with police having searched a house and a cybercafe in two different northeastern Spanish towns.
Earlier one suspect said they had been planning a bigger attack possibly including Barcelona's famous Sagrada Famillia church.
Police are also said to be investigating a site just south of where Younes Abouyaaqoub, whom they have identified as the driver of the van in the Las Ramblas attack, was shot dead on Monday.
A man believed o have spent some time in Abouyaaqoub's flat is also said to have been arrested in Casablanca.
Self-styled Islamic State have claimed responsibility for the van attack and a separate deadly assault, hours later, in the coastal resort of Cambrils, south of Barcelona. In total 15 people were killed and more then 100 injured in both terror incidents.
In little more than a year, Islamist militants have used vehicles as weapons to kill nearly 130 people in France, Germany, Britain, Sweden and now Spain.