Supporting Sierra Leone's young landslide victims
Comments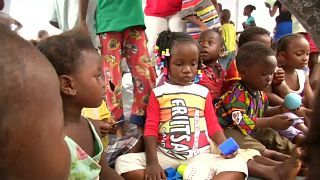 With hundreds of people dead and missing in Sierra Leone's landslides, many children have been left with nothing and no-one.
Suffering deep trauma and loss, they need to feel safe, cared for and not alone.
Aid workers are doing what they can with activities and psychological support provided by specialists to youngsters who have been through so much.
"A lot of these children have been through a very traumatic experience and the flooding, and the landslides has likely had a huge impact on them. So this allows them to receive psycho-social support from trained facilitators and that means they've got someone to be able to talk to, to express any problems or issues they are facing. And also, as part of that, providing a more normal, friendly environment for them," said UNICEF's Chief of the Child Protection unit, James Gray.
200+ children sheltering at the Don Bosco centre in #Freetown after the landslide. @UNICEF supplies inc. tents, blankets & games @DFID_UKpic.twitter.com/bANZtjV10r

— UNICEF Sierra Leone (@UNICEFSL) 21 août 2017
At least 150 children are thought to have died in this month's flooding and mudslides near Freetown, the capital of one of the world's poorest countries which is still reeling from the Ebola crisis.
For the boys and girls who survived Sierra Leone's landslide tragedy, the future won't be easy which is all the more reason why the chance to talk and play is so precious.
Harry Kpange, from the Sierra Leone Family Home Movement, a Christian NGO, is one of the volunteers at the trauma support centre tent in the devastated town of Regent.
"We feel relieved in doing our job with these kids because we want to see them happy, we want to see them safe," he said.
Despite a tragic week in #Freetown we still found smiles outside our child friendly space, just opened in the landslide-hit Regent community pic.twitter.com/d9u2afPT5T

— UNICEF Sierra Leone (@UNICEFSL) 19 août 2017
The challenge ahead is immense.
UNICEF has described the scale of the damage as "unprecedented", adding that children have been left homeless, vulnerable, terrified and in need of protection from disease and exploitation.
with Reuters