Celtic and Sevilla scrape through to Champions League group stage
Comments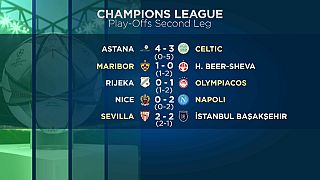 Despite major scares, Celtic and Sevilla have made it through to the group stage of the UEFA Champions League.
In their first loss since last November, the Scottish side tailed 4-3 in their game against Astana, but went through 8-4 on aggregate.
Sevilla also scraped through, on an aggregate of 4-3, having drawn 2-all at home to Istanbul Basaksehir.
Along with Maribar, Olympiakos and Napoli, the teams await the results of Thursday's group stage draw in Monaco.