Is this the worst packaging ever?
Comments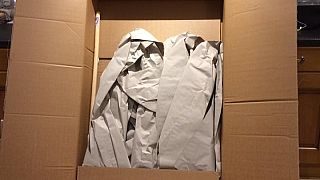 Have you ever been surprised by the amount of cardboard needed to deliver a product to your door?
With more people using home delivery than ever, while at the same time many local authorities are shrinking the size of dustbins to cut waste, internet shoppers are getting caught in the middle as they have to squeeze giant cardboard boxes into recycling recepticles.
Here's one of the most absurd examples we've seen, delivered to the door of Philly Riley in southern England by Amazon.
At first it appeared to be empty, but on closer examination she discovered the broom handle she had ordered nestled in the corner.
The broom handle is 1.4m long and 2cm wide. The box around 1.7m long, 70 cm wide and 10 cm deep. That means the box could have contained more than 150 broom handles.
"It's an extreme example of wastefulness," said Riley. "You'd have thought a company like Amazon would have figured out a more efficient way of doing this by now."
A spokeswoman for Amazon said the company uses a variety of different packaging methods to try to find the most suitable fit for the goods it sends and urges customers to feedback so it can continue to cut waste.
If you've seen a more extreme example of bad packaging, send it to us on Facebook or to witness@euronews.com