Vladimir Putin trusted more than Donald Trump, says poll
Comments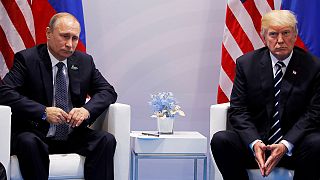 The world has more faith in Vladimir Putin than his US counterpart, Donald Trump
According to a poll by the Pew Research Center both scored poorly.
But Trump's figures point to a high level of international public distrust in the American president.
Thirty-six countries were canvassed, including Germany, France and Japan. Of these, 22 trust the Russian leader more. Trump inspired confidence in 13 countries including Britain, Canada and the Netherlands. Only Tanzania saw them as equals.
Putin cannot be said to inspire confidence on the world stage, but he is more trusted than Trump, the survey found. Globally 60 percent of those who took part said they lack confidence in the Russian leader, with European nations more skeptical.
Most Russians, however, believe that their leader has improved their country's standings internationally.