Senator slammed after burqa ban stunt in Australia
Comments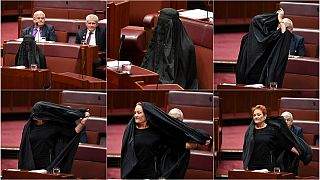 A senator has been criticised after wearing a burqa in parliament as part of a campaign to get them banned in Australia.
Pauline Hanson sat wearing the Islamic headwear for around 20 minutes before getting up to make a speech at Parliament House in Canberra.
She called for the burqa to be banned and linked it to terrorism, which she said was a real threat to Australia.
George Brandis, Australia's attorney-general, hit back at Hanson, who leads the far-right One Nation party.
He claimed the government had no plans to ban the burqa and it was offensive to the Muslim community, whose co-operation was needed by police and security agencies.
"To ridicule that community, to drive it into a corner, to mock its religious attire is an appalling thing to do," he said.
"We have about half-a-million Australians in this country of the Islamic faith and the vast majority of them are law-abiding, good Australians, and Senator Hanson it is absolutely consistent with being a good, law-abiding Australian and being a strict Muslim."
Hanson, who first rose to prominence in the 1990s because of her strident opposition to immigration from Asia and to asylum seekers, has in recent years campaigned against Islamic clothing and the building of mosques.
Her party has four senators, which gives it influence in parliament when closely contested legislation is being voted on.
Adel Salman, vice president of the Islamic Council of Victoria state, said Hanson's action was "a mockery of her position".
"It is very disappointing, but not surprising as she has sought to mock the Islamic faith time and time again."