Saudi Arabia welcomes Qatari pilgrims
Comments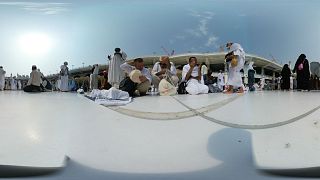 Saudi Arabia has said that it will welcome Qatari pilgrims travelling to perform the Hajj in Mecca this year.
Qataris have been unable to travel to the kingdom since June, when Saudi Arabia and three of its allies accused Doha of supporting terrorism, and imposed sanctions.
Salwa border point
Qatari pilgrims will now be able to enter the country via the Salwa border point, which has been closed since the start of the blockade. Previously it was thought they would only be able to enter the country via two airports using Saudi-approved airlines.
Doha had complained to the UN Special Rapporteur on Freedom of Religion that the Kingdom's stance politicised the Hajj, which is a sacred duty for muslims.
Diplomatic envoy
The announcement came after Saudi Crown Price Mohammed Bin Salman received a diplomatic envoy from Doha and is the first sign of compromise in the long-running stand-off.
In signs the ice may finally be melting, KSA's King Salman orders Qatar's border be re-opened for Hajj pilgrims.https://t.co/yAPjNU6Y7tpic.twitter.com/RCLtCmyL27

— Qatar Living (@qatarliving) August 17, 2017
What is the Hajj?
The Hajj is an annual pilgrimage to Islam's holiest site, Mecca, in modern-day Saudia Arabia. It's one of the seven pillars of Islam, and a sacred duty for all muslim adults who are physically able to complete it, and who can support their family at home whilst doing so.
It derives from traditions which date back thousands of years to the time of Abraham, and employs rituals established by the Prophet Mohammed in the seventh century.
#Hajj2017 Old pictures of the Haram and Ka'ba in Saudi Arabia. Every Muslim should try & go for hajj once if they can afford it. #Hajj1438pic.twitter.com/EgbGQBU36p

—  Faizel Patel (@FaizelPatel143) August 12, 2017
To complete the Hajj pilgrims must:
- enter into a state of holiness, known as Ihram, which dictates, amongst other things, the clothing worn;
- complete Tawaf, which involves walking seven times anti-clockwise round the Kaaba, the cube-shaped structure in the centre of the Great Mosque;
- run or walk seven times between the hills of Safa and Marwah, in a ritual known as sa'ay;
- stand in contemplative vigil at Arafat
- stone the devil, a process known as Ramy al-Jamarat;
- make or commission an animal sacrifice;
- shave or time their hair (in the case of men) or trim the ends of their hair (for women).
euronews has a complete guide to the Hajj for beginners here.