Trump hails Pyongyang pullback but Guam remains nervous
Comments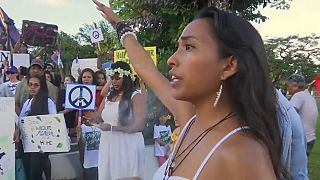 Guam's indigenous Chamorru people have staged a rally for peace – showing the world their culture and that, for them, the threat from North Korea continues to be very real.
Many on the US Pacific territory remain on edge, not least after radio stations there accidentally broadcast an emergency warning on Tuesday.
Radio stations in Guam accidentally broadcast missile warning klaxon https://t.co/WYRhcqcPgMpic.twitter.com/SixeKUAThU

— Daily Mirror (@DailyMirror) 15 août 2017
Guam's officials are stressing the importance of US diplomatic efforts in resolving the crisis.
Speaking to media at a news briefing on Wednesday, Guam's Homeland Security Adviser George Chafauros thanked US Joint Chiefs of Staff Chairman Joseph Dunford for his contribution.
"Thank you General Dunford for…getting into harm's way," he said.
"General Dunford is here not to push military plans. He's there for diplomacy so I'm very reassured that General Dunford is doing that."
In Beijing, on a tour of the region, Dunford, the top US general, has stepped up calls for China to put pressure on North Korea which, for now, is holding back from firing missiles towards Guam.
Pyongyang's decision to step back from the brink was hailed by President Trump on Twitter on Wednesday.
"Kim Jong Un of North Korea made a very wise and well reasoned decision," Trump wrote.
"The alternative would have been both catastrophic and unacceptable!"
Kim Jong Un of North Korea made a very wise and well reasoned decision. The alternative would have been both catastrophic and unacceptable!

— Donald J. Trump (@realDonaldTrump) 16 août 2017