Kenyan presidential election: Odinga to mount legal challenge to results
Comments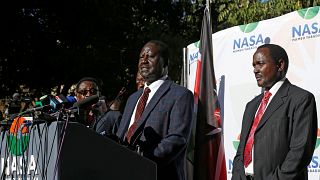 Leader of the Kenyan opposition Raila Odinga will take his claim that last week's presidential election was rigged to the country's Supreme Court.
Although foreign observers said the vote was free and fair, Odinga, who lost out to incumbent President Uhuru Kenyatta, has accused the electoral authorities of fraud tantamount to "democracy's slaughter".
The fraud Jubilee has perpetuated on Kenyans surpasses any level of voter theft in our country's history. This time we caught them.

— Raila Odinga (@RailaOdinga) August 9, 2017
He said his party, the left wing National Super Alliance political coalition, had collected concrete evidence of massive irregularities that were allegedly used to rig the vote.
The official results gave Kenyatta about 54 percent of the vote, and Odinga 45 percent.
The international community called on Odinga to accept defeat after his claims sparked violent riots across the East African country, echoing the upheaval seen following a disputed election in 2007 which left 1,100 dead and 600,000 displaced.
It is hoped the legal challenge will help to reduce tensions.
We continue to appeal to those who are not satisfied to use the legal mechanism which has been created by our wonderful constitution.

— Uhuru Kenyatta (@UKenyatta) August 14, 2017
Odinga said: "The Independent Electoral and Boundaries Commission (IEBC) might have declared Uhuru Kenyatta president, but a vast number of Kenyans have not accepted the legitimacy of the decision, and will not accept it until they have answers to profoundly disturbing questions that have been raised."
European Union foreign affairs chief Federica Mogherini and former UN Secretary General Kofi Annan led calls for Odinga to formalize his challenge in the courts.
But he insisted that his decision did not mean he was giving up the fight.
"We have now decided to move to the Supreme Court to lay before the world the making of a computer-generated leadership," he told journalists.
"By going to court we aren't legitimising misplaced calls from some observers for us to concede but are seeking to give to those who braved the long lines in the morning chill and hot afternoon… a chance to be heard."