Migrant rescue boat threatened by Libyan coastguard in international waters
Comments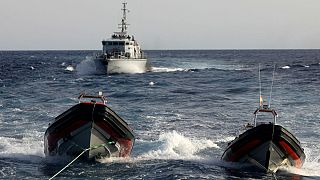 The Libyan coastguard intercepted a humanitarian rescue ship the Mediterranean on Tuesday, threatening to open fire on the crew if they did not sail to Tripoli.
The boat, belonging to the Spanish NGO Proactiva Open Arms was conducting a training exercise in international waters when staff noticed a the Libyan ship approaching them.
On the ship's radio, a member of the coastguard boat's crew can be heard telling aid workers that there were being taken into custody and ordering them to sail towards Tripoli.
The man then threatens the group, saying if they don't follow the orders, they will be "targeted".
"This is Libyan sovereignty," he can be heard saying. "You have to sail now towards Tripoli port. You are under custody, sir.''
''If you don't follow the orders we will target you. I have already warned you before. Libya's government has warned you before but you don't listen. It is your problem.," he continues.
Spokesperson for Proactiva Open Arms Laura Lanuza told Euronews: "Our boat, the Golfo Azurro, was doing some rescue training 27 miles away off Libyan coast on Tuesday, in International waters. Suddenly the crew saw a Libyan Coast Guard patrol approaching them at full speed. Then, the threats started coming through the radio.
"They asked if our boat had authorization from Libya to be in the area but our staff insisted that they were in international waters and that the Libyan coastguard had no jurisdiction. They tried to force our crew to follow them to the port at Tripoli and obey their orders.
"They said that if the crew did not comply with the order, they would shoot them. After an hour and forty minutes they told us to leave the area, and that we should not return again or otherwise they will shoot us."
This is the latest in a string of incidents between rescue workers and Libyan authorities that illustrate the heightened tensions on the Mediterranean sea.
The increasing hostilities have led a three NGOs – Doctors Without Borders, Save the Children, and Sea Eye – to suspend their migrant rescue operations in the region.
The Libyan coastguard intercepted a humanitarian rescue ship in the Mediterranean on Tuesday (August 15), ordering it to sail to Tripoli or risk being targeted, a Reuters photographer aboard said. The incident is the latest case involving vessels of non-governmental organisations (NGOs) operating on the edge of Libyan waters and being threatened by Libyan coastguard boats. The Golfo Azzurro ship operated by Spanish humanitarian organisation Proactiva Open Arms was sailing in international waters when it was repeatedly contacted by a Libyan coastguard vessel, its crew said. A man who identified himself as part of the Libyan coastguard, speaking in English via radio, told the crew of Golfo Azzurro that they were in custody and would be targeted if they did not obey. The Golfo Azzurro was then told to leave Libyan waters. It headed north, followed by the Libyan coastguard vessel. Recent actions by the Libyan coastguard have in part prompted three humanitarian groups – Save the Children, Doctors Without Borders and Germany's Sea Eye – to suspend migrant rescue operations at sea in the past week because they felt threatened. Earlier on Tuesday, the Golfo Azzurro had encountered the C Star, a boat chartered by anti-immigrant group Defend Europe, which has vowed to help the Libyan coastguard and prevent humanitarian vessels from bringing rescued migrants to Italy. Almost 600,000 migrants have a arrived in Italy over the past four years, putting Italy's network of reception centres under huge strain and causing increasing political tensions, ahead of elections before May next year.