Can these giant deep-water fish predict earthquakes?
Comments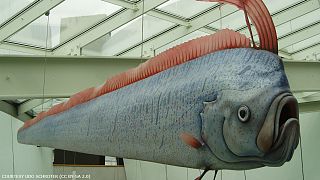 Two dead oarfish washed up at a nature reserve in the Philippines on August 8, the day before a 6.6 quake hit the northern island of Luzon.
Known in Japanese mythology as 'the Messenger From the Sea God's Palace', local media started analysing the link between the dead sea creatures appearing on the Philippines' shores and seismic activity.
The two giants of the deep measured an impressive 3.7 metres (20kg) and 4.4 metres (50kg).
Any sightings of the deep-ocean giants are a rare occurrence as they generally live around 1,000 meters deep and rarely surface.
The distance between the oarfish sighting at the Saint Bernard reserve and the location of the quake off the Philippines – the two are around 1,300 km apart – could be seen as evidence that disproves the Japanese myth.
There have, however, been multiple cases in which the two phenomena occurred together.
In the days leading up the 2011 Tohoku earthquake and tsunami that devastated Japan, around 20 of the fish purportedly washed ashore.
Dozens were discovered by Japanese fishermen around the time a powerful 8.8-magnitude earthquake struck Chile in March 2010.
Can Oarfish Predict Earthquakes? https://t.co/OMM8SxQhAA via LiveScience</a></p>— brn (prodeeboy) August 11, 2017
There is no direct scientific evidence to suggest that oarfish feel seismic activity, but the fact that the creatures live in close proximity to underwater fault lines could suggest a rational basis for the myth.
Rachel Grant, a lecturer in animal biology at Anglia Ruskin University in Cambridge, said that it is "theoretically possible" that oarfish deaths could signal earthquakes.
"When an earthquake occurs there can be a build-up of pressure in the rocks which can lead to electrostatic charges that cause electrically-charged ions to be released into the water," she explained.
"This can lead to the formation of hydrogen peroxide, which is a toxic compound. The charged ions can also oxidise organic matter which could either kill the fish or force them to leave the deep ocean and rise to the surface."