The festival where you can get blood from a stone
Comments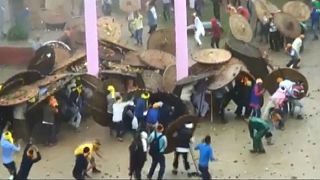 It's a rock festival – but in the most literal of senses.
The extravaganza in northern India sees people throw stones, fruits and flowers at each other.
Thousands of people took part in this year's Bagwal festival, which is held to honour Goddess Barahi.
The stone-throwing left around 334 people with minor injuries, despite people trying to protect themselves with bamboo shields.
Yet devotees who are hurt by the stones are said to consider themselves 'lucky', because they see it as offering blood to the goddess.