Relics of the past? Russia's aging naval flagships are world's biggest
Comments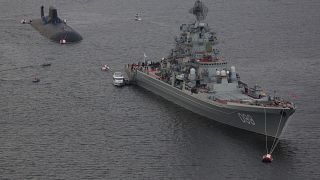 The two vessels taking pride of place at Russia's Naval Day celebrations are among the most fearsome maritime machines ever built.
Both are nearing the end of their service lives, having been conceived at the height of the Cold War arms race,
The Dmitry Donskoi
The last of six Typhoon class submarines developed at deployed by Russia in the 1980s, the Dmitry Donskoi is 175 metres long and can travel without surfacing for up to three months.
It is the only one still in regular use after an expensive refitting, making it the largest submarine in the world.
With a crew of 160 it can work at depths down to 400 meters and travel at 27 knots (50 kilometres an hour) thanks to its dual nuclear reactors.
The boat is named after a prince of Moscow who began construction of the Kremlin. He died fighting the Monguls in the fourteenth century and is venerated as a saint in the Orthodox church.
The Typhoon class, known in Russia as 'Shark class', has been succeeded by the slightly smaller Borei class and is being taken out of service because of cost and to comply with nuclear arms reduction treaties.
The Petr Veliky (Peter the Great)
Two of the four Kirov nuclear battlecruisers built in the late 1980s and early 1990s remain in service – Petr Veliky and Admiral Nakhimov. They share the title of the largest military ships in the world.
They are equipped with the anti-ship Granit system which launches a series of self-guided missiles at its target, as well as sophisticated anti-submarine and anti-aircraft weaponry.
The Petr Veliky is 252 metres long, has a crew of 727 and is powered by two nuclear reactors. It is due for an extensive refit to extend its working life.