Extreme weather hits Europe - scientists blame climate change
Comments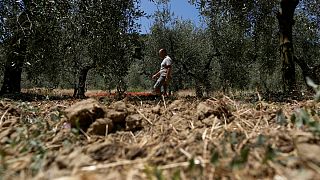 From intense heat waves to severe flooding, Europe is a continent of extremes at the moment. Severe weather conditions have caused mayhem and destruction in many countries.
As Europe battles biblically extreme weather, experts say it's linked to climate change #environment#Francefirespic.twitter.com/yAoUr35JZa

— DW – Environment (@dw_environment) July 28, 2017
Italy has experienced one of its driest springs in some 60 years, meteorologists say some parts of the country have seen rainfall totals 80 percent below normal.
Ilaria Salvadori an Italian agronomist says "The loss in sunflowers, like soft and durum wheat, is about forty to sixty percent. Sunflowers sowed at the right moment are ready to be harvested one month before their time."
In Portugal, more than a thousand firefighters were deployed to extinguish two forest fires in the provinces of Castelo Branco and Santarem, which have forced authorities to evacuate surrounding villages.
Experts believe that these extreme events are caused by a number of reasons.
Omar Baddour is the chief of World Climate Data and Monitoring at WMO – "If you look at the past 150 years of record, you'll find few of such extreme events in the past 150 years, but in the recent three decades, 30 years, we have been recording more and more events like these."
#Heatwaves have caused more fatalities in Europe in recent decades than any other extreme #weather event. https://t.co/P0aO6J5C9y

—

WHO

/Europe (@WHO_Europe) July 13, 2017
Scientists say the growing number of extreme events is mainly a result of climate change, they believe these extreme weathers will become the norm in western Europe unless we take immediate steps to reduce greenhouse gas emissions."