Maduro rejects US threats over election
Comments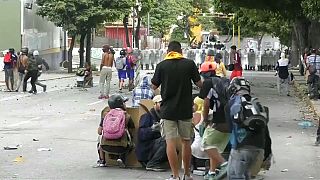 A two-day national strike in Venuezuela has seen more violence as anti-government protesters clashed with security forces.
Demonstrators are protesting at government plans to rewrite the constitution.
President Nicolas Maduro says the rewrite is a means of resolving the countries political and economic crises.
Opposition leaders are boycotting it and using social media to highlight their campaign.
Venezuelan Opposition Leader Leopoldo Lopez said: "Today Venezuela is facing a threat, a very serious one. This threat is the project of constituent assembly which is led by Nicolas Maduro and his allies. This threat has two goals: First to annihilate the republic and the rule of law. And second, to subjugate the people of Venezuela."
The White House has placed sanctions on 13 Venezuelan officials and former officials and threatened tougher action if Maduro goes ahead with a controversial election on 30th July.
In response, President Maduro presented special swords to those sanctioned and called the sanctions "insolent"