Up a notch: Hamburg takes on sea level rise
Comments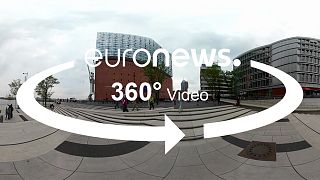 Floods have always been a threat in Hamburg, where a storm surge in 1962 killed 315 residents across the Hanseatic city.
The danger is now exacerbated by climate change, which is expected to cause the water level to rise by half a metre by 2100.
To keep the population safe, authorities are rebuilding the dyke at Landungsbrücken, which protects the city centre, to make it 1.4 metres higher.
But the brand-new HafenCity district – which includes the Elbphilharmonie concert hall – is built right by the river Elbe, but is not protected by dykes. Instead, developers are betting on an old idea: Build high.
The new district has been built on raised plinths, so that residents live at least 8.3 metres above sea level.
According to Jürgen Rux, senior project manager at HafenCity Hamburg GmBH, this method is highly advantageous, especially for aesthetic reasons: "There is no dyke or wall in front of the HafenCity. Instead people can enjoy a perfect view of the water."
die #elbphilhamonie im Abendlichthttps://t.co/S4l7EbSl0U#hamburg#hafencity#hamburgerhafenpic.twitter.com/qzm8PR0EtR

— fotowelt-hamburg (@Fotowelthamburg) May 28, 2017
Video produced by Ole Krogsgaard
Watch in Virtual Reality: how climate change is affecting Europe now
Inside this VR experience, you can watch seven different reports on climate change in Europe, either with a VR headset or through your normal browser on computer, tablet or phone.
You can choose your destinations by gazing at the icons on the map or by hovering the round cursor on them.
On a desktop browser, you can enter full screen mode by clicking on the glasses.
Please use Wi-Fi if you are on mobile, as well as headphones for the best experience. If you have trouble starting the experience below, please click on this link .