Europe's oldest astronaut set for third trip to space
Comments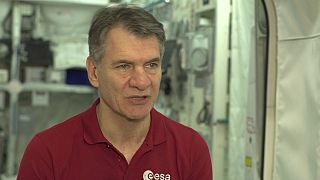 Europe's oldest astronaut has been speaking to Euronews (see below) ahead of his third trip to space on Friday (July 28).
Italian Paolo Nespoli will blast off from a base in Kazakhstan for a five-month stint at the International Space Station (ISS).
Nespoli, 60, born in the same year Sputnik sparked the space race, also spent time on ISS in 2007 and 2010.
"Going in space gives us an incredible, different perspective," Nespoli told Euronews' Claudio Rosmino.
"Here on Earth we are smashed to the ground, our visibility is only for the few metres around us.
"It's like if we'd go to a museum and look at a portrait with our nose against the painting itself. We wouldn't be able to see the face. If you want to see it, you have to stand back.
"And when you stand back from Earth, you have an overview effect. You see nations without borders, you see the oceans, you see how delicate this planet seems from space. It makes you feel like a human being."
Milan-born Nespoli will spend his time maintaining ISS, supporting experiments and communications work to help "bring as many people into space with us as possible".
He said: "The Earth seems to me like a ship in space and we are all the sailors on the ship and we should unite all our resources and capacities to make sure we maintain the ship as it should be and keep for us to enjoy but also for the future generations.
"A space station is telling us when we put together our resources, when we think about problems bigger than us – like science, how to understand ourselves, how to do things in a better way – we humans are able to find resources we don't think we have and we can all work together towards those goals.
"Maybe we should start thinking in this way and approach these problems we have in everyday life as humans and put together all the resources to overcome them and find new solutions. This is what the space station is telling and teaching us."