Duterte vows to continue his drug war in the Philippines
Comments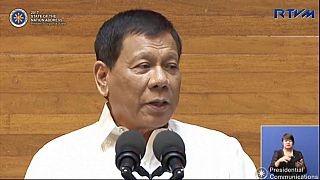 Thousands of protesters gathered at the Philippines House of Representatives as President Rodrigo Duterte delivered his second annual state of the nation address.
In a two-hour speech Duterte promised an unrelenting war on drugs, defending a crackdown that has killed thousands of Filipinos.
Duterte said critics were wrongly blaming police for most of the deaths and "trivialising" his campaign by talking about the need for due process and to protect human rights.
He said that though he valued human life, he needed to tackle "beasts and vultures" that were preying on helpless people and stopping foreign investment from pouring in.
The crackdown on drugs is the signature campaign that has defined Duterte's presidency and caused an international outcry, with rights groups condemning his administration for a campaign that has overwhelmingly targeted drug users from poor communities, and left narcotics kingpins untouched.
Duterte also vowed to continue his government's fight against ISIS-linked militants in the country's south.
He said he would build a military over the next two years that could fight on all fronts by recruiting 35,000-40,000 new soldiers, and buying planes and drones to tackle communist and Islamist rebels.
Duterte said security threats had increased in the Philippines and the military needed more troops and more modern equipment to meet those challenges.
But, he added, that he was prepared to "wait it out" before retaking Marawi City from Islamic State-inspired rebels holed up there for two months, because protecting civilians and hostages in the conflict zone was of paramount importance.