UK and US volunteers fight ISIL on Syria frontline
Comments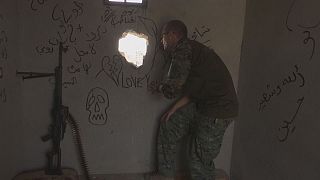 In the decisive battle against the self-styled Islamic State in Raqqa, Syrian fighters have been joined by several British and American volunteers.
Macer Gifford, 30, was a City broker in London. He came to Syria three years ago, revolted by the plight of displaced Yazidis.
After first joining the Kurdish PYD (People's Protection Units), he now fights alongside US-backed Syrian Democratic Forces.
"There are secular democratic forces on the ground here and it's the local people, not America and Britain, that's going to liberate this country, and if we support these locals like the Christians who I am with today then we can build like a democratic framework for the country and actually advance, and sort of see a much more peaceful future for Syria," he told the Associated Press.
Alongside him are two Americans, one of whom served in the French Foreign Legion. Kevin Howard is a skilled sniper who claims to have killed 12 ISIL militants.
For him the battle is personal.
"I had a friend whose little sister was in the Bataclan theatre in Paris during the attacks a few years ago. I fought in Iraq in 2006-2008, I lost friends there, and to me this is a continuation of that fight," he said.
Howard is looking forward to going deeper into the ISIL-held city. He's not put off by the fact that some volunteers have died in battle. In early July two Americans and one Briton were killed in Raqqa.
US, British volunteer fighters in forward role in IS battle: RAQQA, Syria (AP) — Hunkered down in… https://t.co/KdV202nMgdNewsSyndicator</p>— News Syndicators (NewsSyndicators) July 18, 2017