After Turkey's coup, a life in exile
Comments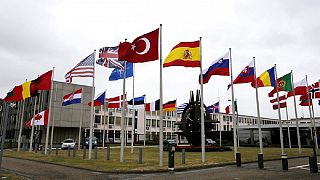 It's been almost one year since Turkey's failed military coup, followed by a major purge of state institutions.
Among those to be fired were more than 100 senior military staff at NATO based in Belgium.
Euronews has spoken to two of them; one is a former F16 pilot and the other a former general.
They have since claimed political asylum in Belgium for fear of facing dubious trials and prison if they return. Both of them asked not to be identified.
One of them said: "I was trying to understand when I said to my wife 'look, they say it's a coup but it doesn't look like a coup'.
"I mean, it's not the normal way of making a coup. Turkey has seen many coups before. The coups are made late in the night, every checkpoint is controlled, all media is shut down and in the morning there is only one channel left to say to the nation 'there has been a coup, stay at home, don't get out', but it was the total opposite.
"The president came out and called on the people to take to the streets, it was around 9 or 10 pm and everybody was on the streets. It was like a funny caricature, it didn't look like a coup."
The other man said: "The very large list came on September 27, with 200 and something names and my name was on that list too.
"Until that point, I really didn't think that we were in danger in any way because we were in Brussels, we were still thinking there would be some sort of rule of law, that we would be able to explain ourselves and show them there was no way we could have participated in this coup.
"But when the large list came out, it was obvious they didn't care whether you participated or not. They were just after purging people."
Some of their colleagues have had their passports revoked, bank accounts blocked and pension rights canceled, while spouses and relatives who are still in Turkey are banned by police from leaving the country and some are imprisoned.
They added: "You get an order saying you need to go back – unlawfully, there is no kind of reason for it. You call them back and they say it's a state secret, we cannot tell you what the accusation is.
"They didn't say what it was, they didn't say what we were being blamed for, what were the charges. They just said 'there is a judicial investigation on you. Come back'."
Turkey has marked the anniversary of the abortive coup in which around 250 people, mostly unarmed civilians, were killed with a series of ceremonies.
One of the former military NATO staff added: "We don't know what happened on that night, to be honest. That's the most hurtful part. We still do not know what happened that night. What the government says and what those (who were on the list) say does not match."