Brazil president moves closer to corruption trial
Comments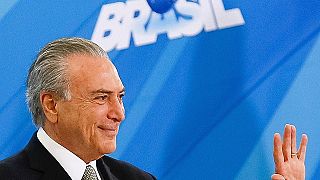 A key Brazilian lawmaker has recommended that President Michel Temer be put on trial over corruption charges.
Legislator Sergio Zveiter, who was appointed by a Chamber of Deputies committee to study and report back on the Temer case, told the panel there is sufficient evidence to try the president.
Temer is accused of accepting bribes from a meatpacking executive in exchange for helping the company obtain favorable government decisions. The president has denied wrongdoing and vows to fight the charge.
Temer's lawyer Antonio Claudio Mariz de Oliveira, called the allegations "a lie":
"I heard 'The President of the Republic has received (bribes)….I challenge, here and now, the attorney general, for whom I have much respect, for him to tell me when the President of the Republic received even a nickel? When? Where? From who's hands?"
Two-thirds of the Lower House's 513 members must now approve the charge against Temer for it to move to the Supreme Court which in turn votes on whether to accept the charge.
Brazilians took to the streets amid this latest allegation. The country has been embroiled in a wide scale corruption scandal (Petrobras) has lead to the impeachment of Temer's predecessor and the jailing of other political and business figures
If Brazil's Temer falls, likely successor Maia would take governing without mandate to new levels https://t.co/7Abuj4fGGM

— Christoph Harig (@c_harig) July 10, 2017
Expect plenty of ugly maneuvers and dirty tricks before any House vote on Temer's corruption charge takes place. #Brazil

— Angela Milanese (@AngelaMilanese) July 11, 2017